OneEighty Welcomes Dr. Dennis Helmuth: A Dedicated Psychiatrist and Addiction Specialist
Providing Comprehensive Care for Mental Health and Substance Use Disorders
Dr. Dennis Helmuth, an accomplished physician with both an MD and a PhD, is a board-certified psychiatrist specializing in general psychiatry and addiction psychiatry. With over 34 years of experience, Dr. Helmuth brings a wealth of knowledge and expertise to the field – particularly in the treatment of substance use disorders and co-occurring mental health conditions.
The Overlap between Addiction and Mental Health
Recognizing the complex interplay between addiction and mental health, Dr. Helmuth emphasized the importance of addressing substance use disorders as a priority. "If someone is actively abusing substances, you almost invariably have to address that first," he advised. He explained that approach makes it possible to evaluate and treat the underlying mental health conditions more effectively. "There is often a large overlap between addictive disorders and other mental disorders. It goes in both directions," explained Dr. Helmuth. "People with other mental disorders are more likely to have substance use issues, and people with substance use issues were more likely to have other types of psychiatric problems that may also contribute to their substance use, or they may be trying to self-medicate."
A Holistic Approach to Treatment
Dr. Helmuth's treatment approach combines psychotherapy and medication – tailored to each client's unique needs. "Psychiatric treatment usually consists of two things: psychotherapy or talking therapy and medication," explained Dr. Helmuth. "With opioid use disorders, buprenorphine is an important part of the medication treatment." He highlighted the significance of a combination of several therapeutic modalities – including individual psychotherapy and twelve-step meetings, alongside pharmacological interventions when necessary. He went on to emphasize the importance of considering other mental health conditions that may arise once a client achieves sobriety, such as depression or anxiety, for which additional interventions like antidepressant medication may be appropriate.
Addressing the Opioid Epidemic and Saving Lives
Throughout his career, Dr. Helmuth has witnessed numerous success stories among his patients. He recalled, "I have a number of successful buprenorphine patients that I continued to see, probably about nine of them, and they are going on with their lives. If people didn't already know they had once struggled with an addiction, they simply wouldn't have any idea. They are teachers, technicians, administrators, truck drivers, and parents, and the buprenorphine treatment has helped stabilize their lives so much." With his extensive background in addiction psychiatry and dedication to patient care, Dr. Dennis Helmuth is poised to make a significant difference at OneEighty, contributing to the well-being and recovery of those facing substance use and mental health challenges.
Dr. Helmuth and his wife, Kathy, have been longstanding sponsors of OneEighty's Break the Cycle event – aimed at reducing the stigma surrounding the issues of substance use disorder and addiction and to support the treatment/prevention services offered at OneEighty. Reflecting on their involvement, Dr. Helmuth shared, "We've enjoyed supporting Break the Cycle through the years. It's something we were passionate about, and we were proud to contribute to this cause."
A Collaborative Approach for Patient Care
"I've known Bobbi Douglas for over 30 years. I remember having lunch with her when she first came to Wooster, Ohio," Dr. Helmuth explained. "So, I've known Bobbi a long time. We've both been in Wooster for about the same amount of time. I've been in private practice, and she's been developing OneEighty." Dr. Helmuth expressed his eagerness to join the team at OneEighty and collaborate with Dr. Nicole Labor – sharing expertise and insights for the benefit of clients, "I'm hoping we can have a really good collaborative relationship that will benefit the patients."
OneEighty CEO, Bobbi Douglas, enthusiastically agrees, "We are absolutely thrilled and deeply honored to welcome Dr. Helmuth to the OneEighty team. His dedication to improving mental health and his years of expertise will undoubtedly elevate our services," she explained. "Having both a distinguished psychiatrist like Dr. Helmuth and the expertise of Dr. Labor in substance use disorders within our community means we can offer comprehensive care and support to those struggling with a dual diagnosis of substance use disorder and mental health disorders," she added.
With a long history of interest in substance use disorders, including his involvement in an adolescent residential treatment program for teenagers with substance use problems, Dr. Helmuth brings a unique perspective to the field. His wealth of experience and passion for helping others makes him a valuable addition to OneEighty.
As Dr. Helmuth looks forward to joining the OneEighty team, his main motivation was to make a positive impact on the community. "Treating substance use disorders is perhaps one of the most important things a doctor can be doing right now with the epidemic of overdose deaths," he emphasized.
Dr. Helmuth will be collaborating with OneEighty on a volunteer basis and will only be available to OneEighty clients during posted office hours, one day per week.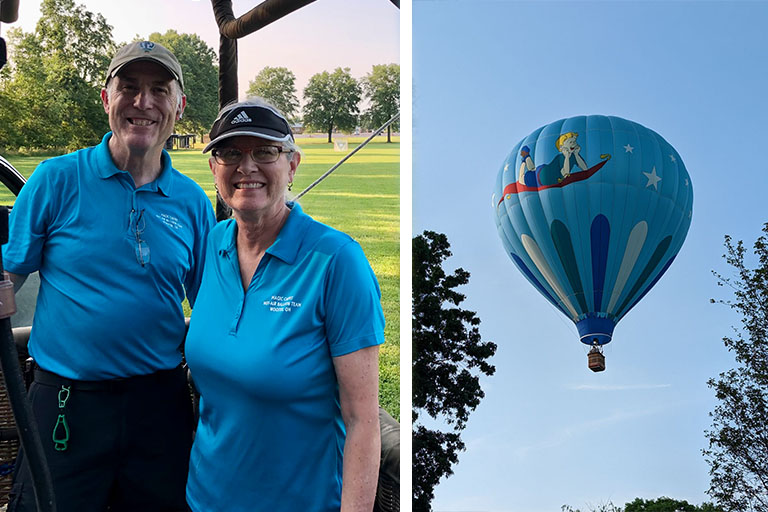 Dr. Helmuth and his wife enjoy hot air ballooning in their free time and have even participated in the NFL Football Hall of Fame Balloon Launch.
OneEighty Resources
For those encountering a substance use crisis please call OneEighty's Substance Use Treatment Navigator Hotline available 24 hours per day, 365 days per year at 330.466.0678. For other resources, click the links below:
Community Relations & Prevention
Substance Use Treatment Navigator Hotline
Intimate Partner & Domestic Violence booklet (Wayne County) Self-Help Legal Manual


Follow us on Facebook, Instagram, and LinkedIn