Navigating an Epidemic Within a Pandemic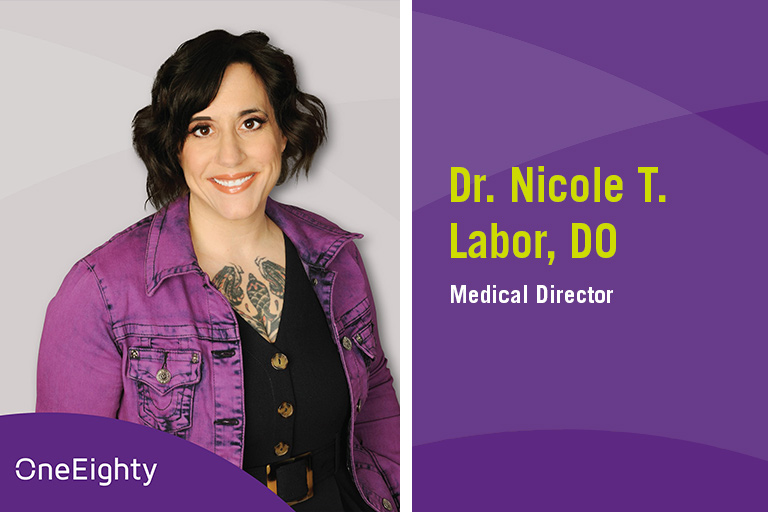 Substance Use Disorder (SUD) is a disease that affects a person's brain and behavior and leads to an inability to control the use of a legal or illegal substance. According to SAMHSA, in the fourth quarter of 2020, among people aged 12 or older who drank alcohol in the past year, 15.4% (or 25.9 million people) perceived that they drank "a little more or much more." Similarly, among people aged 12 or older who used drugs other than alcohol in the past year, 10.3% (or 10.9 million people) perceived that they used these drugs "a little more or much more." Why the drastic increase?
OneEighty Medical Director, Dr. Nicole Labor, says it has to do with the isolation that took place during the COVID-19 pandemic. She and Bobbi Douglas, CEO at OneEighty, gave a presentation on this topic to the Wooster Rotary Club. Dr. Labor will present this again at OneEighty on Monday, June 20th from 5:30-6:30, and this event will be open to the public. "Addiction is an isolating disease," Dr. Labor claims, "and a big part of treatment for addiction is socializing, interacting, and networking with other individuals. Most people with addiction that have gotten into recovery have gone from a state of isolation to a state of socialization."
SUD is characterized by:
Cravings
Violation of a person's core value system
Social, financial, legal, medical, or other consequences
Isolation, or alliance with like-minded individuals
The treatment of SUD includes:
Medication, or degrees of abstinence
Developing a support network for accountability
Professional assistance in the development of skills to improve interactions with life
Avoidance of triggers
"We know the gold standard of treatment is group therapy," says Dr. Labor, "and we know that meetings where you develop a support network of other individuals who are not using is key to recovery. If we're constantly promoting these socializing events as a huge piece of treatment, why would we not think that just ripping that away would have devastating impacts?"
The rise of relapses
During the pandemic, Dr. Labor noticed an increase in relapses and substance use. "What we saw was a pretty significant increase in people using substances, and people overdosing and dying from substances. We saw a significant increase in new-onset alcohol use disorder as well."
The pandemic required novel treatment and prevention strategies, and in doing so, elevated the concern for coronavirus above most other health problems, including SUD. It also placed individuals with SUD at higher risk for both contracting COVID-19 and relapsing or worsening substance use, while removing many of the more effective treatment strategies.
Additionally, with liquor stores and marijuana dispensaries being considered essential and therefore staying open during the pandemic, along with enhanced delivery and curbside pickup options, access to alcohol and marijuana expanded, adding to the problem of increased relapses.
Media sensationalism was also a factor. The pandemic provided an ongoing and pervasive level of anxiety for individuals with little or no ability to properly cope with it, while simultaneously removing their coping strategies. Of this anxiety, Dr. Labor says, "Let's look at the fact that we have this massive pandemic going on, and without any background in medicine or science, you're reliant on the media to tell you what's going on. They're essentially inciting mass panic in people. Now you've taken away people's support mechanism, which is primarily networking and socializing, and you've added to it this giant component of anxiety."
Accessibility helps and hinders
The rise of telehealth services allowed access to healthcare for people who were previously unable or unwilling to access it, but was not as efficient for those with SUD, whose treatment relies heavily on in-person appointments and events.
According to Addiction Policy Forum, 1 in 3 respondents reported "changes or disruption in treatment or recovery support services". Dr. Labor and OneEighty continued to offer in-person treatment through the pandemic. "I was a hundred percent face-to-face," says Dr. Labor. "It was because I was the only person left in my patients' lives that wasn't making them do everything virtually. I felt like if this was the only connection that they had with humans outside of their immediate family, and if I could provide that, then that's what I was going to do."
Innovation is key
The pandemic helped identify holes in the healthcare system, ones we'll hopefully fill. Now that we know the profound impacts treatment disruption can have on the vulnerable population of those with SUD, we can begin to develop systems and procedures that prioritize maintaining recovery treatment.
Even though the struggle to return to normalcy is not over, Dr. Labor remains hopeful. "The hope is that going forward, when we see situations similar to this in the future, we'll take into account the levels of threat, and potentially look for other ways to mitigate it that don't involve losing the social interaction of recovery. We can be resourceful and innovative in figuring out a way to do what we need to do."
Thankfully, with the dedication of healthcare providers, the widespread effects of the pandemic have improved in recent months and will continue to improve so that recovery resources can remain available to anyone who needs them.
OneEighty Substance Use Resources
For those encountering a substance use crisis, please call OneEighty's Substance Use Treatment Navigator Hotline available 24 hours per day, 365 days per year at 330-466-0678. For other resources, click the links below:
Community Relations & Prevention