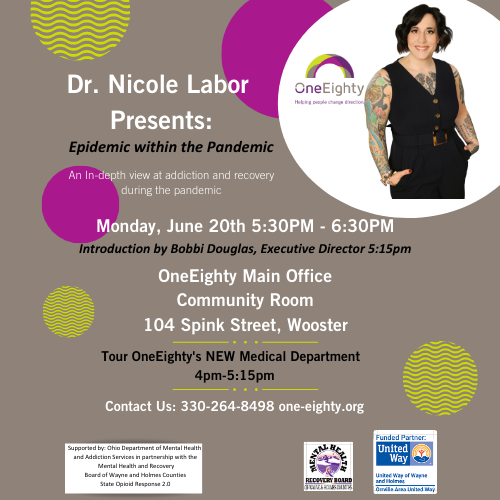 Date
Jun 20 2022
Expired!
Dr. Nicole Labor Presents: Epidemic within the Pandemic
OneEighty is proud to present Dr. Nicole Labor, Epidemic within a Pandemic, an in-depth view of addiction and recovery during the pandemic.
This event is FREE and open to the public!
Monday, June 20th, 5:30 PM-6:30 PM
Community Room
104 Spink Street, Wooster, Ohio 44691
The presentation will take place at OneEighty's Main Office in the first-floor community room from 5:30 pm-6:30 pm. A brief 15-minute introduction by OneEighty's Executive Director Bobbi Douglas will begin at 5:15 pm.
TOUR DR. LABOR'S MEDICAL DEPARTMENT


4:00 PM-5:15 PM
Guests are welcome to tour Dr. Nicole Labor's Medical Department, which was completed in the Fall of 2020. The new office space was part of the OneEighty 2018 Campaign for Recovery. Tours will be available between 4 pm-5:15 pm on Monday, June 20th.
Please contact OneEighty's Community Relations and Marketing Manager for more information at 330.804.4402 or by email vansicklec@one-eighty.org
Supported by: Ohio Department of Mental Health and Addiction Services in partnership with the Mental Health and Recovery Board of Wayne and Holmes Counties. State Opioid Response 2.0