Meaningfully Involved: Eleanor Runyan Path to Non-Profit Volunteer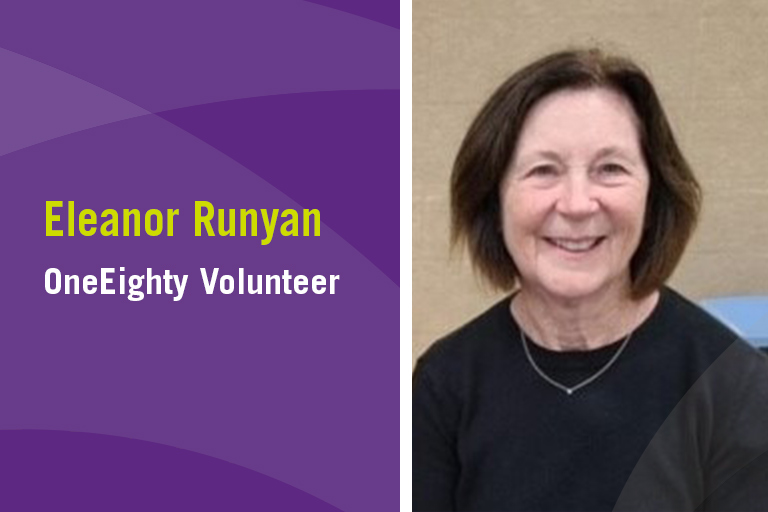 Every April, the nation celebrates the selfless spirit of volunteering. National Volunteer Month, and more specifically National Volunteer Week, April 16 through 22, 2023, is a time to celebrate "volunteers performing extraordinary acts of service." OneEighty has the deepest appreciation for every volunteer who supports its mission. But Eleanor Runyan, a non-profit volunteer at OneEighty, exemplifies the definition of volunteerism because she empowers others, brings people together, and believes in the dignity and equality of every person. "It makes me more than satisfied that Holmes County Friends and Neighbors of OneEighty continues to thrive, and that I reside in a community that recognizes the value of such an organization and is willing to support it with their presence and financial contributions," Eleanor stated.
Eleanor is a retired educator, parent, and grandparent. She and her husband moved to Holmes County in 1972 to teach school. In the early 1990s, Eleanor had a good friend who had started volunteering at OneEighty (Every Woman's House at the time). Her friend confided in Eleanor that she wanted to learn more about domestic violence because her husband had grown up with an abusive father. Her friend convinced Eleanor that it was an important organization to support.
Making a Difference
Eleanor began as a non-profit volunteer at a few events for the Wayne County Friends and Neighbors of OneEighty, an auxiliary group dedicated to providing financial assistance and education to OneEighty (known at that time as Every Woman's House). Her passion for the mission did not go unnoticed, and she was asked to serve on the Board of Trustees (at that time, the board presided over both Every Woman's House and STEPS at Liberty). When her term ended, Bobbi Douglas, OneEighty's Executive Director, asked Eleanor and Vicki Morrison (also a trustee of the board) if they would be interested in starting Holmes County Friends and Neighbors of OneEighty. In 2004, Eleanor and Vicki mobilized their bridge club and hosted their first meeting at the Millersburg United Methodist Church. "Holmes County Friends and Neighbors of OneEighty put us out there in the community. We do non-profit volunteer events and provide education so people understand that domestic violence, addiction, housing, and mental health issues can happen in our community," Eleanor shared.
Cultivating Care
Eleanor has chaired Holmes County Friends and Neighbors of OneEighty too many times to count in the past 25 years. Her signature event, the Holmes County Garden Tour, a fundraiser where local residents open their private gardens for individuals to tour, began in 2006. This event still happens today under Eleanor's leadership and is scheduled for July 1st, 2023.  Gardening is a personal passion for Eleanor. In the summer of 2020, OneEighty was looking for outdoor opportunities for the children at the shelter due to the pandemic. Eleanor worked as a non-profit volunteer with OneEighty's Youth Specialist to revamp the outdated garden at the shelter. They worked with the children to clear out the overgrown flower beds, pull weeds, prep the ground, plant, and mulch. "Working with the children was the most rewarding experience," said Eleanor. In addition to the bi-annual Holmes County Garden Tour and the creation of the shelter garden, Eleanor has organized several other fundraisers and educational events, such as participating in OneEighty's annual client Holiday Shopping Event and organizing and donating goods to OneEighty's donation closet.
Helping People Change Direction
Eleanor's passion for OneEighty's mission is rooted in the belief that everyone deserves a chance. "OneEighty sees value in all people, regardless of their situations, slips, or social status. Everyone deserves a chance to lead a full and productive life. Children deserve to grow up in a non-hostile, drug-free environment. All students are expected to reach similar goals, whether there was violence that kept them awake the night before, they didn't have breakfast, or they were abused. "Just like all students want to learn to read, all people want to do what's right," says Eleanor. Making decisions that are not based on her personal needs but about helping people change directions is what makes Eleanor unique. She and Bobbi Douglas remain close friends and Eleanor's volunteerism has also inspired her husband, Bill, to volunteer with her. In addition to OneEighty, Eleanor also volunteers at Millersburg United Methodist Church, Love INC, and the Love Center Food Pantry.
Start Something New
Holmes County Friends and Neighbors of OneEighty is still going strong in their 19th year.  Some of their signature events are: Pottery Day held every January at West Holmes Middle School is a great family-friendly event; Coblentz Chocolate Night held every other February highlights a special Holmes County business; Refuse to Abuse 5K held each April educates about domestic violence while promoting wellness; and their bi-annual Taste Extravaganza held in November showcases local chefs, community leaders, and volunteers' culinary skills. If you are interested in volunteering or being a committee member for Holmes County Friends and Neighbors, please reach out to Dwight Sprang, OneEighty Volunteer Coordinator, at 330-264-8498 or email him at sprangd@one-eighty.org. Dwight Sprang can also be contacted regarding other non-profit volunteer opportunities available at OneEighty's Main Office, located in Wooster, Ohio.
We're here to support you
We help people change direction with programs for addiction, domestic violence, rape crisis, mental health, housing, and prevention and education. At OneEighty, we actively support an evidence-based approach to sustainable recovery from trauma and addiction – restoring dignity and purpose, reimagining potential, and rebuilding lives. OneEighty offers counseling programs, intensive addiction treatment programs, group addiction treatment, residential services, recovery housing, and peer recovery.
OneEighty Resources
If you or someone you love has experienced sexual assault or is experiencing domestic violence, call us at 800-686-1122. For those encountering a substance use crisis, please call OneEighty's Substance Use Treatment Navigator Hotline, available 24 hours per day, 365 days per year at 330-466-0678.
For more resources, click the links below:
Community Relations & Prevention
Substance Use Treatment Navigator Hotline
Intimate Partner & Domestic Violence booklet (Wayne County)Self-Help Legal Manual


Follow us on Facebook, Instagram, and LinkedIn.