Human Trafficking Awareness Month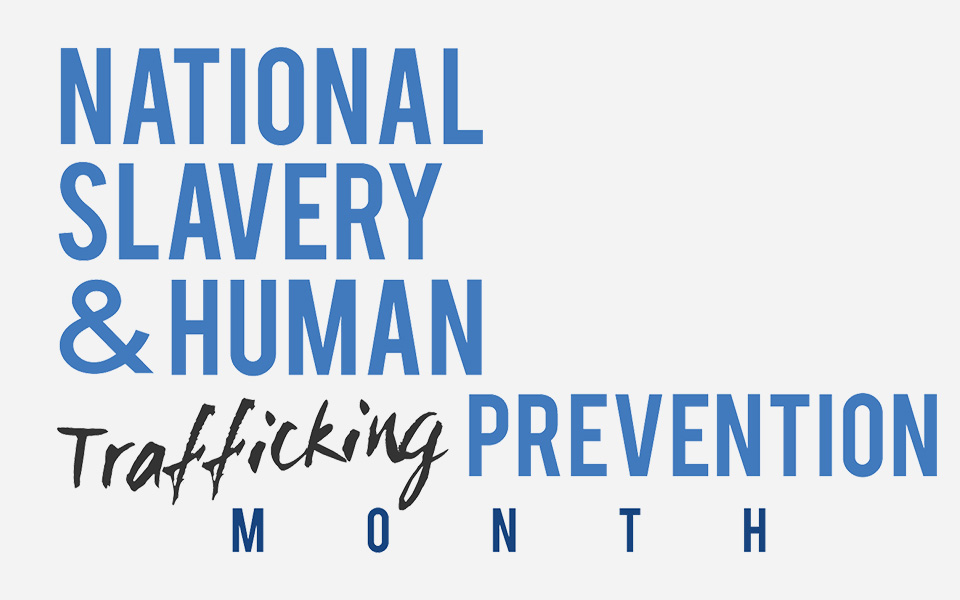 You Can Help Make an Impact
Every year since 2010, the President has dedicated this month to raising awareness about the different forms of human trafficking, also known as modern slavery, and educating people about this crime and how to spot it. In the month of January, the Department of State is dedicated to raising awareness of human trafficking domestically and overseas through U.S. embassies and consulates. (Source:https://www.state.gov/national-slavery-and-human-trafficking-prevention-month/)
What is Human Trafficking
Trafficking in persons, or human trafficking, is a form of modern-day slavery that includes forced sex work. Human trafficking represents a threat to international peace and security not only because it's illegal, but because it also robs millions of people of their dignity and freedom, supports trans-national criminals and terrorists, and threatens public safety and national security everywhere. It's the fastest-growing business of organized crime and the third-largest criminal enterprise in the world.
By some estimates, as many as 24.9 million people worldwide — both adults and children — are trapped in some form of human trafficking. And the instability caused by the pandemic, natural disasters, and economic uncertainties can increase opportunities for traffickers to exploit victims.
OneEighty and WATCH – Wayne, Holmes, and Ashland Anti-Trafficking Coalition
OneEighty is proud to partner with WATCH during the month of January to bring awareness to Human Trafficking. The WATCH mission is to unite and engage professionals and community advocates to respond to all forms of human trafficking through increasing awareness and education.
WATCH has created the WATCH January HT Calendar 2022 for the month of January. Please take a minute to download the calendar and share it with others to help increase awareness and provide education. You can learn more about WATCH on their Facebook page.
What Can You Do to Help?
Get educated. Prevention and awareness start with learning the signs and red flags.
Speak up. Ask your elected representatives how they are addressing human trafficking.
Report a tip.
If you have information about a potential trafficking situation:
Call the U.S. National Human Trafficking Hotline: 1-888-373-7888
Text: HELP to BeFree (233733)
Email: help@humantraffickinghotline.org.
Get involved. Your help can help save lives.
OneEighty Resources:
Domestic Violence & Sexual Assault
Community Relations & Prevention