Everything You Need to Know About Residential Treatment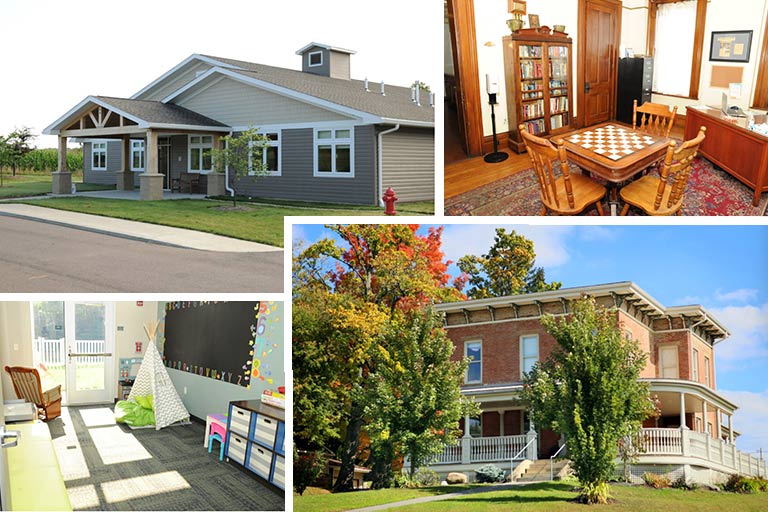 OneEighty provides a full continuum of care, which means we're with you all throughout your journey to recovery. A big step of that journey is our residential rehabilitation program, which we offer for those with substance use disorder to help them change direction.
We have two residential treatment facilities: Pathway for men, a Victorian house that has been beautifully renovated, and the Women's Residential Treatment Center (WRTC) which was built in 2019. OneEighty will work with non-binary individuals to meet their preference for the best treatment option.
Entering Treatment
To enter residential treatment, OneEighty accepts calls at our Main Office, 330-264-8498, as well as physician or court appointed referrals. Potential clients are then screened by a well-trained staff, and once accepted, we work to make admission happen smoothly, which includes a tour and going over program expectations in the client handbook. We want clients prepared to engage from day one.
It's important to bring the correct documentation (if you have the documents) with you when you arrive. Be sure to bring:
Birth certificate
Social Security card
State identification card or driver's license
Food stamp card (if applicable)
Insurance card (if applicable)
We also recommend bringing other items from home, such as clothes, toiletries, and laundry supplies. For specifics, check out our complete list of what (and what not) to bring.
Daily Life
In a typical day of residential treatment, clients usually have two 2-hour group sessions led by licensed and credentialed staff on a variety of topics. We also have a morning meditation and evening gratitude group, as well as 12-step programming each evening. Clients plan and prepare all their meals. Additionally, we have specialty programming like yoga, the YMCA, and parenting classes.
Current Weekday Schedule
7:00 am – Wake Up
7:30 am – Meditation
8:00 am – Breakfast
8:30 am – Medications
9:00 am-11:00 am – Group (Groups differ each day with topics such as CBT, DBT, relapse prevention, motivation enhancement).
*Once a week; 3.1 clients meet with counselor/recovery coaches to discuss aftercare/relapse prevention planning – given extra time to work on transition planning for 2 hours.
Wed – Yoga 11:00 am-12:00 pm (men)
Tues/Fri – Yoga from 1:00–2:00 pm (women)
11:00 am-12:30 pm Lunch Prep/Recovery Work Time/Case Management as Needed/Individual Counseling and Recovery Coaching Time/Phone Time
12:30 pm – Lunch
1:00 pm – Medications
1:00 pm-2:00 pm M, T, Th, F – YMCA
Mon – Gardening (women)
Wed – Parenting Education (women)
Thurs – Parenting Education (men)
Thurs – Landscaping/Gardening (men)
2:00 pm-4:00 pm Group
4:00 pm-5:00 pm Dinner Prep/Chores/Recovery Time/Recovery Coaches Available/Case Management/Individual Counseling
5:00 pm – Dinner
5:30 pm-7:00 pm – Phone Time/Medications
7:00 pm-12 pm – Step Meeting
8:00 pm – Chores
9:30 pm – Gratitude
10:30 pm – Medications
11:00 pm – Lights Out
Current Weekend Schedule
9:00 am – Wake Up/Medications
9:30 am – Breakfast/Meditation
10:00 am – 11:30 am Group
12:00 pm – Lunch
12:30 pm-4:30 pm – Visitation/Passes/Peer Recovery Coach/Hotline Available
1:00 pm – Medication
5:00 pm – Dinner
5:30 pm-6:30 pm – Phone Time
6:00 pm – Medications
7:00 pm – Meeting
8:00 pm – Chores
9:30 pm – Gratitude
12:30 am – Lights Out
Graduation
Residential treatment typically lasts for 60 days but is individually determined. When a client has completed treatment, we have a "Coin Out" ceremony where clients get to pick a coin of their choice. All staff and clients get to say positive words as they pass around the coin. Graduating clients are also invited to bring along family or other supports to engage in the ceremony.
What Happens Next
Because OneEighty provides a full continuum of care, we work to connect clients with an outpatient counselor, recovery coach, and case management services. We also offer transitional recovery housing for our clients who need additional support, partial hospitalization program (a 20-hour per week program), and recommend clients continue 12-step programming. Treatment isn't the end of the recovery journey. We help you find the next steps that will work best for you.
Women's Residential Treatment Center (WRTC)
Pathway for Men – Noble House
Resources