Working In Sync: Non-Profit Volunteer to President of the Board of Trustees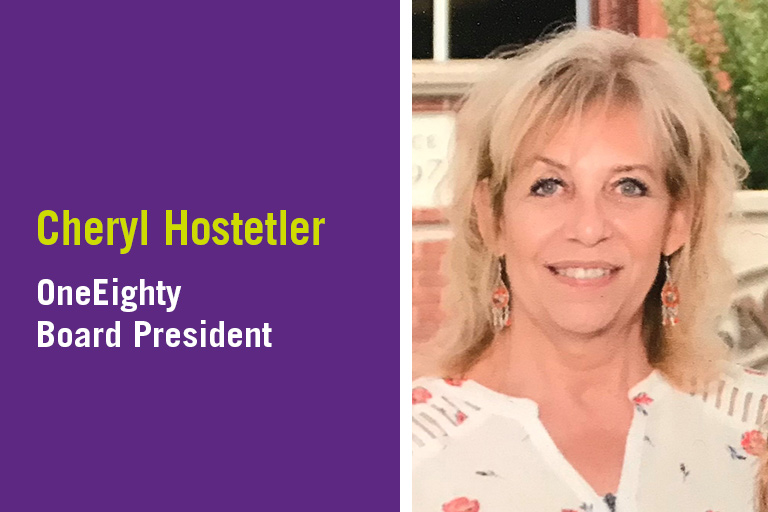 When both the Executive Director and the President of the Board of Trustees recognize the talent and the gifts each other brings to the table, you can be assured that the work being accomplished at the agency by non-profit volunteers is happening at its peak level.
That's the feeling one gets when catching up with OneEighty's current Board of Trustees President, Cheryl Hostetler. This full-time Senior Paralegal at The J. M. Smucker Company eagerly shared her experiences while serving as a volunteer with ever increasing responsibilities for the organization.
"When I was younger, my former mother-in-law was very philanthropic and served as a volunteer for what was then Every Woman's House (EWH)," Cheryl said. "I so admired that she was giving of her time to something so important to our community, and thinking to myself that sometime in the future, I wanted to emulate that kind of service."
Learning the OneEighty Volunteer Ropes
She continued to become aware of the non-profit volunteer work being accomplished at EWH, and when she moved from Smithville to Wooster in 2005, a neighbor got her involved in the EWH golf fundraiser.
"I was asked to volunteer for the annual Every Woman's House Golf Tournament sponsored by the community volunteer support group known as Friends and Neighbors of EWH. I had no idea how much work went into this wonderful fundraiser, but I quickly learned," Cheryl said. "I worked diligently, and the next year, the group asked me to become co-chair of the event, with the knowledge that the following year I would serve as chair."
Two years later, chair Cheryl revamped everything in the tournament and went on to stage an event that raised the most money ever for that tournament. One of her mentors during those years with Friends & Neighbors (F&N) was Lynn Buehler. Lynn, who had joined the Board of Trustees of what now is known as OneEighty, came to Cheryl with an important question…would she consider joining the Board of OneEighty?
"My first thought was that I didn't think I had the skill set to do this," Cheryl reflected. "But then I decided that I had learned about the fundraising side by being a board member on F&N, then became Vice President, and soon after, President. Now, I could learn about the business side of the organization by saying 'yes' to the Board of Trustees. I realized I would learn more about the daily operations of the organization, meet new people, and be able to become more involved in the community."
Board Realities
At the first meeting, she observed what was going on and thought, "what have I gotten myself into?" But over time, she recognized that each board member brought their own experiences and expertise to the table, and by coming together, they could help make some of the tough decisions necessary to help an agency with over 100 staff members operate at its highest level of efficiency while producing the best possible outcomes.
"Bobbi Douglas is truly an amazing director," Cheryl said. "She has many gifts, one of which is her ability to put together a stellar staff. It is because of these people and the guidance of the Executive Director that our community has this valuable resource right in our own back yard."
Presidential Reflections
As her two-year term as President is coming to a close at the end of December, Cheryl reflects on her time as its leader.
"As Board President, I think I only missed one or two extra committee meetings. While I wasn't required to attend all those meetings, I thought it was important to attend them all along with all our monthly finance and board meetings. By attending the extra committee meetings, I was able to really become educated about the workings of OneEighty. Additionally, I serve as President of the Community Crossroad Board which is a non-profit holding entity for all the properties that OneEighty owns, and I am required to attend those meetings, as well. Outside of presiding over each Board meeting, I constantly try to share my knowledge with others in our community by letting people know that no matter what challenges are out there, there's help for victims of domestic violence and sexual assault, mental health, and substance/addiction abuse challenges, as well as help with housing and recovery coaching, etc. The staff at this agency will assist you to find a path to 'change direction' and help you go full circle with their support," Cheryl said.
She also is proud of the fact that OneEighty's board truly operates as a bonded team. They have also learned that being able to 'change direction' is key to the success of not only its clients, but also the agency. Being ready to meet the challenges of an ever-changing world is essential to keeping the agency relevant.
Her advice to someone thinking about serving on a board is simple.
"If you are looking to give back to your community and think you're interested in making a difference by joining a board, look at the agency's mission statement. Then read as much as you can about what work they are doing. Finally, decide to just go for it. You won't be disappointed. You will learn more than you thought possible, end up so much more informed about your own community and possibly grow to love volunteering in whatever capacity you can give, as much as I have."
Be the Reason
There are many ways that you can help OneEighty, and in turn, help strengthen your local community. Make a gift that supports OneEighty's services and programs. Donate goods that will be used to serve our clients and families. Become a non-profit volunteer by serving on a board, working with a client, or helping with administrative or organization projects. Please visit OneEighty's website Get Involved page for more information at one-eighty.org/get-involved/ or contact Dwight Sprang, Volunteer Coordinator, at spangd@one-eighty.org or his direct line: 330-804-3312.
Resources
To learn more about the addiction recovery resources available through OneEighty or to schedule an appointment, call us at 330-264-8498. If you need immediate assistance, call the 24-hour substance use crisis line at 330-466-0678. Follow us on Facebook, Instagram, and LinkedIn.