OneEighty's Dr. Labor is Named to the American Society of Addiction Medicine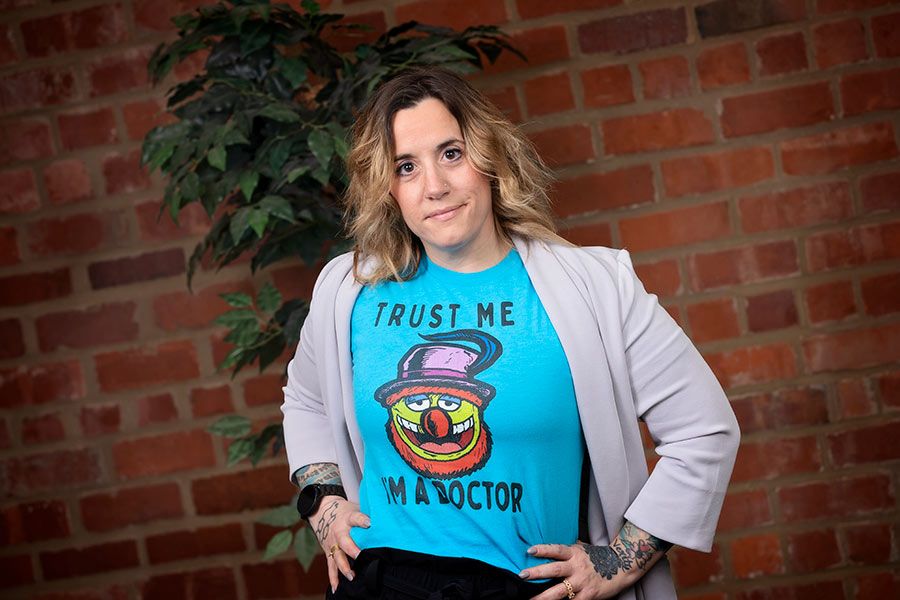 An Ambassador for OneEighty and an Advocate for Recovery
OneEighty's own Dr. Nicole Labor has been named a 2023 at-large member of the American Society of Addiction Medicine (ASAM) Board of Directors, and she will be sworn in at a ceremony in April. Founded in 1954, ASAM is a professional medical society and advocacy organization dedicated to making addiction prevention, treatment, and recovery accessible to all. "ASAM is doing critical work to impact the entire health care system, and I'm excited about the contributions Dr. Labor will be able to make during her term," OneEighty CEO, Bobbi Douglas offered.
"I ran for the board because I really want to be a Distinguished Fellow of Addiction Medicine," Doctor Labor explained. "I believe my experience with recovery from addiction gives me a unique perspective and so forth, but I am not convinced it is that unique. I have extensive experience treating SUD in every setting I can think of from hospital-based detox and medical consultation to community and clinically based detox, outpatient, MAT, residential, level 2 and 3 recovery housing, and harm reduction as well as special populations like pregnant women."
Why ASAM Level of Care Certification Matters
ASAM developed the National Practice Guideline to provide information on evidence-based treatment of opioid use disorder and is the first to address all the FDA-approved medications available to treat addiction. ASAM supports a future in which addiction prevention, treatment, remission, and recovery are accessible to all ­– working to advance healthcare and improve the health of all people. By offering ASAM Level of Care Certification, OneEighty assures patients, loved ones, payors, and regulators that OneEighty programs are administered with the vital support of trauma-informed, evidence-based services within a continuum care.
OneEighty follows the chronic care model, using the 6 dimensions of ASAM to assess clients and form treatment plans. And the ASAM Criteria provides OneEighty treatment professionals with objective standards they can use to help identify the least intensive treatment services that can help keep a participant safe as they work to make personal life changes. "Our assessments are all based on ASAM Criteria," Douglas explained. "The information from the assessment is then used to determine the appropriate level of individualized care." The ASAM Criteria's strength-based multidimensional assessment takes into account the following information for OneEighty clients:
Needs
Obstacles
Liabilities
Strengths
Assets
Resources
Support Structure
Discover Recovery You Can Believe In
"There are plenty of treatment centers popping up all over the place. They pop up, make some money, and then they get shut down or they disappear," Dr. Labor noted. "Not surprisingly, these centers are typically places that aren't accredited by The Joint Commission (formerly known as JCAHO), and the Commission on Accreditation of Rehabilitation Facilities (CARF) – the two most well-known certifying authorities for addiction rehabilitation programs."
"Dr. Labor brings a unique viewpoint that will absolutely add to the work that board does. I think it speaks volumes that Dr. Labor, who's a vital part of our clinical staff at OneEighty, has been elected among her peers to a national board," Douglas remarked. "She is a great ambassador for our mission here at OneEighty and the clients, families and the community we serve."
OneEighty Resources
We help people change direction with programs for addiction, domestic violence, rape crisis, mental health, and housing, and with prevention and education. OneEighty strives to offer a safe and welcoming environment for all people. At OneEighty, we actively support an evidence-based approach to sustainable recovery from trauma and addiction – restoring dignity and purpose, reimagining potential, and rebuilding lives.
Call the 24-hour substance use crisis line at 1-330-466-0678 for immediate assistance. For other resources, click the links below:
Community Relations & Prevention
Substance Use Treatment Navigator Hotline
Intimate Partner & Domestic Violence booklet (Wayne County)
Self-Help Legal Manual


Follow us on Facebook, Instagram, and LinkedIn.