Life Comes Full Circle: My Story of Addiction Recovery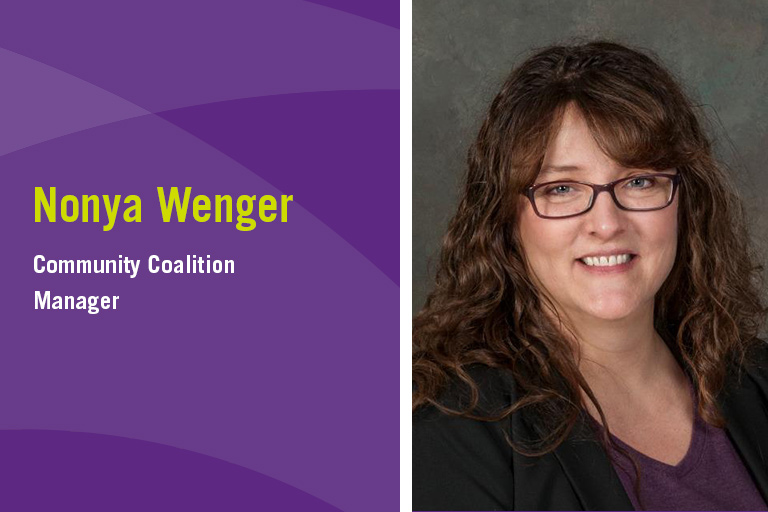 The road from addiction to Community Coalition Manager wasn't straight and narrow. In fact, the story told by Nonya Wenger mirrors that of many individuals who have veered off the path of healthy living.
"I lived in a family engaged in substance abuse and I started using drugs and alcohol with them from a young age, especially with my mom. I went from job to job, party to party," Nonya recalls. "I was very codependent with my Mom, and my life continued to mirror hers. I never realized there were any other options."
Drugs and alcohol filled her life in her early 20's, but by the time she hit her late 20's and 30's, it went from all fun and parties to losing jobs and jumping from one unhealthy, scary relationship filled with domestic violence to another.
"I had three daughters by then, and I took them hostage on my journey of destruction," Nonya recalled. "I put them in some very dangerous situations as I didn't always know who was in the house. I wasn't equipped to parent, and I had no life coping skills."
By her mid 30's, Nonya was in and out of local jails recounting that she didn't know how she managed to avoid prison. Meanwhile, her mother became involved in the 12-Step fellowship programs and had decided to pursue a degree at Akron University Orrville campus. She moved to Orrville, and Nonya followed her 'best friend.' But the cycle didn't stop there as their addiction continued to grow.
Discovering What Was Important
"I realized that there were three things that were important to me," Nonya said. "I needed a job, a place to live, and I needed my kids with me to be happy. Mom was in school, and I would help her with her assignments. Even though we both still abused drugs and alcohol, it was then I realized that there was a whole other world out there."
But it wasn't until Nonya ended up in the "Pay to Stay", Wayne County's Discipline & Rehabilitation Center, that she wandered into Wooster Interfaith Housing's program. That program enabled her to have housing, family counseling, and she started working the 12-Step program regularly.
"I kept a job the longest I had ever kept one… 14 months. But despite them giving me every chance, I couldn't stay clean," she said. This was a pivotal moment in my life as I was asked to leave the program. I then secured this tiny apartment which became the first place that I never got high."
Meanwhile, Nonya's Mom who was still struggling checked herself into Beacon House, One-Eighty's women's inpatient rehabilitation center. The family would go see her and that is where Nonya became acquainted with people who were long-standing members of the addiction recovery community.
A Story of Recovery
"Wooster Interfaith had left me on their housing list and because I was finally getting my life together when they called, we were able to move into a home. It had two bathrooms, I had a supportive boyfriend, and we thought we had arrived. Even so, I couldn't stay clean and was high before I managed to get a year into my addiction recovery journey. It was then I decided to follow my mom's path. I quit my job to go back to school and spent the next 4 years trying to achieve my goals all the while living on the fringe of the recovery community, but I couldn't' stay clean."
Reveling in her first set of grades including an 'A' in a class she had really struggled with, she recognized she was living a double life. Using the familiar recovery phrase, "I was sick and tired of being sick and tired."
At that moment of clarity, she recognized that a 'higher power' had been looking over her family and she made a call to Beacon House where Peg answered the call that opened the door to true recovery.
How I Overcame Addiction: A Real Transition
"By the time I got to Beacon every conversation I had with my then 18-year-old daughter ended with 'I hate you.' My Mom and Grandma were taking care of my twins. Here I was, a 37-year-old woman and staff was making all my decisions for me. The first month in addiction recovery was really hard. I was only allowed to call my kids every couple days, and I was afraid I was going to lose my house. But then, my youngest children were allowed to move in with me, I was able to work out a plan to complete treatment and keep our home. I experienced my first bout of real serenity among 12 women all working toward our own goals."
"Just breathe" became her mantra, and she learned to live in the moment. She and her children learned to follow rules, live with structure and they all developed coping skills. And, at the end of every day, she learned about reflecting on gratitude for the things she was able to accomplish-something she still does!
"My Mom finished her degree in social work. Everyone thought I was going to follow her path, but I knew I didn't want to do that. I first got an Associate Degree in Medical Office Management and then went on to get my Bachelor's in Organizational Supervision. While at The University of Akron Wayne College, I worked as an events coordinator and then as a Marketing Assistant for a group of Cemeteries and Funeral Homes," she said.
But it was at the funeral of a friend who had overdosed that she learned about a different kind of job opening at One-Eighty.
"I had always kept my addiction recovery journey and my career separate, but this Prevention-based job opened new opportunities I had never even thought of," she said. "The science surrounding Substance Misuse Prevention includes reducing risk factors while increasing protective factors. I knew that taking the job as a Coalition Specialist would either be the best decision or worst decision I had ever made."
Turns out it was the best! She now holds the highest certification in Prevention she could achieve in the state of Ohio and feels that the potential to positively influence a whole generation of people is possible with a focus on Prevention.
"All of the programming my mother, my children and I engaged in helped us find our assets. We were a drain on the community, and now we all have an opportunity to give back. My children are so wonderful, better than I ever thought I deserved. But none of that would have ever happened without some intervention. Now I can contribute to the community by hopefully changing the course of life for others," she concluded.
Resources