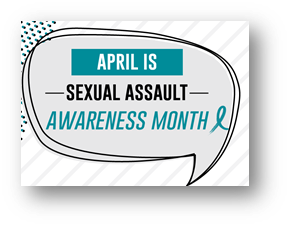 Date
Apr 01 - 30 2022
Expired!
Sexual Assault Awareness Month/April 2022
Sexual Assault Awareness Month (SAAM) is dedicated to raising community awareness about sexual assault and educating the public on how to prevent sexual violence and support survivors.
Teal Day, Tuesday, April 5
Wayne County Commissioners 2022 SAAM Proclamation
Wednesday, April 6th
Awareness Calendar for SAAM
Take Back the Night
Join OneEighty's Coordinated Community Response Specialist, Gayle Bryne, MBA for a special presentation at the College of Wooster, Scot Center, Governance Room.
Friday, April 22nd at 6pm
OneEighty Book Club
Clothesline Project
The Clothesline Project is a national art project started in 1990 in Hyannis, Massachusetts, as a memorial to survivors of violence.
The clothesline is comprised of t-shirts created by survivors of domestic violence, child abuse or sexual assault, or in honor of those who have been victimized.
The mission of The Clothesline Project is to educate students and the community that violence is a problem everywhere, help is available, and there is hope and a path to healing.
OneEighty 2022 Sexual Assault Awareness Month (SAAM) Clothesline Project display will be at OneEighty Main Office 104 Spink Street and Wayne County Public Library, 220 W. Liberty Street both located in Wooster, Ohio 44691.
Informational Newsletters regarding SAAM
At OneEighty we are dedicated to the prevention and intervention of sexual assault through education, community outreach, and victim advocacy. We offer comprehensive and compassionate services for survivors.
If you have questions regarding what to do or what happens when you seek support, such as medical attention, you can call OneEighty's 24-hour Domestic Violence/Sexual Assault Hotline: 800-686-1122or the National Sexual Assault Hotline: 800-656-4673 (NNEDV). OneEighty's Main Phone number is 330.264.8498.