12th Annual Break the Cycle
Break the Cycle 12th Annual Event, Saturday, August 27th, 2022
 RIDE or WALK to BREAK THE CYCLE of ADDICTION
WAYNE COUNTY FAIR GROUNDS/ HOLMES COUNTY TRAIL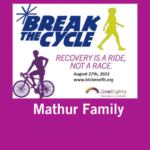 Legacy Sponsor              Title Sponsor

 
TEAMS WELCOME! Enter yourself or create a team. Please refer to the group registration page for a special discount for a group 10 or more.
Registration Fees
$40 Ride or Walk on the Day of the Event*  * Price includes a complimentary hot meal
Children 12 and under accompanied by an adult can walk for free
$35 Ride or Walk Virtually
Day of Registration will be $45
This event is centered around the mission to reduce the stigma surrounding the issues of substance abuse and addiction and to support the treatment/prevention services offered at OneEighty.
Break the Cycle celebrates recovery and promotes wellness with three bike routes, Holmes County Trail bike ride and two 5K walks. The bike ride consists of either a 24-, 50- or 70-miles ride through the scenic countryside of Wayne and Holmes counties. Each route varies in elevation and level of fitness. The Holmes County Trail bike ride begins at Hipp Station (Millersburg) to Fredericksburg aid station and then back to Hipp Station. A 5K walk will begin at the Fairgrounds and tour historic downtown Wooster stopping by to visit OneEighty's Main Office and Recovery Club. The Holmes County Trail 5K will begin at Hipp Station.
EVENT DETAILS:
All individuals who register before August 4th will receive a free t-shirt
SAG Supported (Support and Gear Drivers on the course).
Multiple rest stops available with restrooms and refreshments available to participants.
RIDE ON will be on-site at the fairgrounds for any maintenance issues cyclist may have with their bike.
Hot Meal Provided on the day of the event in Wooster and at the Holmes County Trail. Wooster main course donated by Certified Angus Beef. Veggie Burgers and side dishes served by Buckeye Deli.
START LOCATIONS
The 24-,50-70 Mile Bike Rides and 5K Wooster Downtown Walk begin and end at the Fairgrounds; 199 Vanover St, Wooster, Ohio (Buss Hall).
The Holmes County Trail Bike Ride and 5K Trail Walk: begins at Hipp Station, 62 N. Grant St., Millersburg, OH.  Lunch will be provided on the trail at Hipp Station OR participants are welcome to have a hot lunch at Wayne County Fairgrounds after their ride. Fairgrounds, Buss Hall, 199 Vanover St, Wooster, Ohio
PLEASE NOTE: This event is held RAIN or SHINE.  Any schedule changes on the day of the event due to weather will be communicated the day before by email and on the day of the event at check-in.
2022 SPONSORS
Platinum
Kathy and Dennis Helmuth
David Spectrum
Steve and Cheryl Shapiro
Hummel Group
United Titanium, Inc
Wayne Savings Community Bank
Wooster Products
Gold
Susie and Steve Slack
John and Judy Thomas
Aultman Orrville Hospital
Bogner Construction Company
Campbell Construction
The Killbuck Savings Bank Co.
Lifetime Financial Advisors, LLC
Magni-Power Company
Stifle Adams Reichert Wealth Management Group
Triple B Heating and Cooling
Wooster Brush Company
Silver
Annette and Chris Ranger
Alison and Troy Schmidt
Titus and Carla Yoder
Critchfield, Critchfield, and Johnston, Attorneys
Dorman Legacy Advisors
Insurance Centre Agency
Lowe & Young Inc.
Magic Garage Door, Inc.
Roberts Funeral Home
SAP Concur
Seaman Corporation
Bronze
Bobbi Douglas
Jay and Christy VanSickle
Ty and Cyndee Young
Facility Outsource Group, Inc.
In-Kind
Buckeye Deli
Buehler's
Certified Angus Beef
Ride On
If you are interested in being a sponsor for the event, please contact Christy VanSickle, Community Relations and Marketing Manager at vansicklec@one-eighty.org or at 330.804.4402